Don't miss it! Wanderlust is back and returning to Aspen-Snowmass June 30-July 3, 2016. This four-day festival retreat of yoga, speakers, music, food, shopping and outdoor adventure (like hiking) is uber restorative and fun. The event really has something for everyone.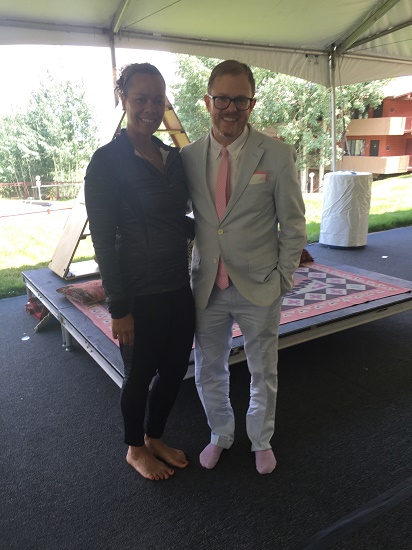 Last year, I got the opportunity to meet Author Lodro Rinzler who taught me to sit like a Buddha and meditate on the breath. Read more about my 2015 Wanderlust experience here, then get your tickets ASAP. There are a lot of classes and activities on the schedule but the most popular, sought-after ones fill fast. I hope to see you there fashionista!
2016 WANDERLUST ASPEN SNOWMASS announcement
Kim Small, Publicity Director
The 2016 Wanderlust Festival will feature an unparalleled lineup of some of the world's most sought after yoga teachers, musicians, meditation instructors and performing artists. Attendees can practice various styles of yoga (at all levels), outdoor activities such as hiking, nature runs, paddle-boarding and biking, and indulge in wine tastings and organic delicacies.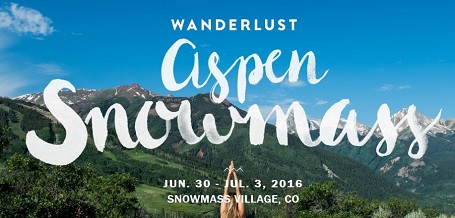 YOGA— Experience top tier yoga classes taught by the world's most sought after teachers: Seane Corn, Kathryn Budig, Ashley Turner, Rod Stryker, Eoin Finn, MC Yogi, Kerri Kelly, Mary Beth LaRue and more
MUSIC– Get down with live performances featuring reggae great Steel Pulse, the Australian fusion of Xavier Rudd & the United Nations, Karsh Kale's atmospheric electronica, the indie folk of Magic Giant, as well as Elijah Ray, Son Little, Xavier Rudd, and the sweet beats of DJ Drez, DJ Sol Rising and many more.
MEDITATION– Relax and get centered with meditation classes from renowned teachers such as Thomas Droge and Sarah Martin, Liza Dousson and more.
NATURE– Outdoor enthusiasts of all ages will delight in the full range of adventurous activities from stand up paddle boarding, explorative hikes and adventure runs to kayaking, outdoor meditations, photo treks and more. A collection of imaginative activities such as acroyoga, hula hooping, and slacklining will also be available.
TALKS– Attendees will be inspired by the Speakeasy series, a lecture program featuring today's thought leaders including: Poet, activist and social media starPrince Ea; environmentalist Lauren Singer reveals the ways to lead a trash-free life; and in this election year, we present the Wanderlust Town Hall meeting to discuss issues that are shaping our country and to find mindful solutions with Kerri Kelly and Mike de la Rocha.
Festival partners and sponsors include:
Adidas will host a one-of-a kind, immersive onsite activation to engage in attendee-led experiences, enabling them to embed more sport into their day and create their best selves at all US-based events. Curated Adidas apparel also will be sold at each event.
Ford Motor Company aims to deliver great products, a strong business and a better world. Ford, the Official Vehicle of Wanderlust, will present a series of curated workshops and lectures hosted by Wanderlust thought leaders. Festival attendees will also have the opportunity to take a drive around festival grounds or catch a ride to their next Wanderlust destination in the new 2017 Ford Fusion Hybrid, along with other Ford hybrid and plug-in hybrid cars.
Kashi believes that eating more plants can be a catalyst for a healthier life – which is why they'll be sharing a variety of new plant-powered foods with festival attendees in 2016. By curating unique ingredients that simply #GoTogether, Kashi is able to create foods that offer both complete nutrition sources and taste amazing.
Balancing symbolism with naturally inspired elements, Silver & Sage Jewelry offers individuals a wearable reflection of their spirit and a reminder of their own journey. Bracelets, malas, earrings and necklaces made with silver, gold and natural stones will be available for purchase on-site.
Spiritual Gangster, a yoga inspired clothing brand for high vibration living, aligns the vision of the ancient practice of yoga and the modern world.
Temple Turmeric will be sampling and selling their whole root turmeric-based beverages including two new Elixirs that feature white turmeric: Pure Mega and White Turmeric Dark Cherry. Ask them how to win a free bottle and be on the look out for their nomadic Temple Rickshaw wandering the festival grounds sharing their turmeric offerings and spreading love.
The Wanderlust Festival tour will continue beyond Aspen-Snowmass, with stops in Squaw Valley, California, July 14-17; Whistler, British Columbia (Canada), July 28-August 1 and Tremblant, Quebec (Canada), August 11-14.
For more information and tickets please visit http://wanderlust.com/festivals/aspen-snowmass/. 5 Things to Bring to Wanderlust Aspen Snowmass