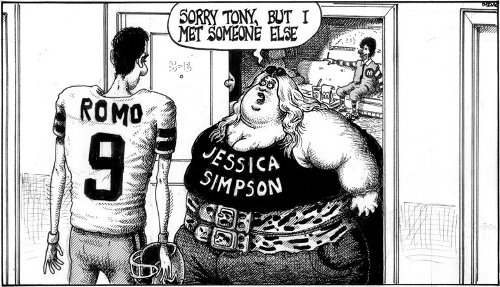 When I first heard about the NY Post, "Jessica Simpson Fat Cartoon", I couldn't believe it! I took one look at the photos in question and I knew that it was a bad camera shot accompanied by ill-fitting high-waisted pants. Besides, most women do not look good in high-waisted wide legged pants! High-waisted pants is just not a good look, a fashion faux pas, usually!
So…The very next day, I followed and listened to all of the related follow-up stories, which expressed outrage at such a publication.
Yes, I agree…
1. Publications should be moderated.
2. Such imagery can negatively effect a young girl's self-esteem.
3. Such imagery can negatively effect a young girl's body image.
4. It is deplorable that this society values a woman's beauty more than her talent, skill or abilities.
However, here's my take on the story! Like I said…The next day, I listened closely to the coverage of this particular story. The truth is I became outraged as well! I wanted to put up a post to defend Jessica Simpson. She is far from being fat! Yes, of course, the viral picture which made yesterday's headlines was taken at a bad angle. So, just when I thought…I've heard enough! I began looking for recent pictures of Jessica Simpson to prove she is definitely not fat. Fortunately, I had access to the Getty Images publication; but unfortunately, I really couldn't find any recent pics of Jessica besides those taken at the Chili Cook off on January 25, 2009 and a somewhat obscure Marie Claire cover story- BTW, she looked fabulous! So…as I scoured the internet for recent pictures and related Jessica Simpson stories, I realized Jessica hasn't been a very popular celebrity in over a year- I believe her five minutes of fame flame needed to be reignited! Therefore, it is my opinion that, perhaps, Jessica's PR people purposely put this unsightly ensemble together. Look at the pic below! A picture is worth a thousand words. I mean… Come on! It looks as though Jessica knew that the high-waisted wide legged pants were not very flattering on her. Celebs are waaaaay smarter than we think! Check out the picture below and join the conversation!
Here is where you can tell thousands of women and young girls what you think. Share your take on this story with thousands of visitors. *Copyright Protected. First Class Fashionista permits a direct link and credit.