FirstClassFashionista would like to invite you to shop:
Discount Designer Clothes
Discount Designer Shoes
Discount Designer Handbags
*BOOKMARK THIS SITE* Reality Television News Website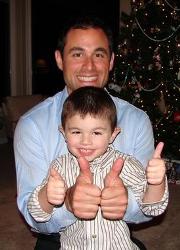 During a recent interview, Jimmy Kimmel sarcastically asks The Bachelor's Jason Mesnick… "Is there any chance you will dump him and replace him with a blond child?" Shockingly, Jimmy Kimmel was speaking of Jason Mesnick's young son who appeared on "The Bachelor" with his father. Okay…! I must admit I was worried if Jason Mesnick was really setting a good example for his son- But I find Jimmy Kimmels question (sarcasm or not) to be highly inappropriate.
---
Will You Dump Him and Replace Him with a Blond Child?
Jason Mesnick's Response: I would never introduce him to anybody that would be bad with him. He met two great girls-but he also met a great production staff.
Here is where you can tell thousands of "The Bachelor" fans what you think. Share a comment with thousands of visitors. *Copyright Protected. First Class Fashionista permits a direct link and credit.