FirstClassFashionista would like to invite you to shop:
Discount Designer Clothes
Discount Designer Shoes
Discount Designer Handbags
*BOOKMARK THIS SITE* Racism Exposed Website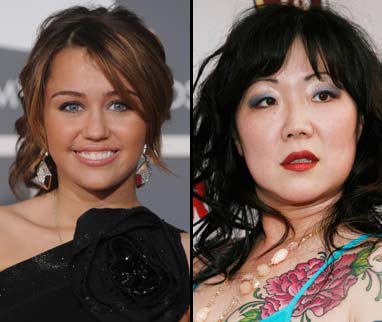 A picture, supposedly, hit the net last week with Miley Cyrus sitting on her boyfriend's lap, friends surrounding her while they all pulled on their eyes and made them slanted. Miley Cyrus, 16 years old, says that she was just making a goofy face. Do you think this is a case of harmless fun or not? Margaret Cho doesn't think so. She is outraged. She says that this is a disgrace and wonders why racism against Asians isn't taboo.
Okay, I've had the pleasure of listening to Margaret Cho's stand up comedy. She is a funny lady; but much of her comedy does consist of Asian stereotypes. So do I smell a hypocritical double standard? Is it only okay for Margaret Cho to make a funny of an Asian stereotype since she is of Asian decent? Is it just comedy as long as your a paid comedian? And does Margaret Cho's comedy in any way help to perpetuate these stereotypes?
Here is where you can tell thousands of people what you think. Share a comment with thousands of visitors. *Copyright Protected. First Class Fashionista permits a direct link and credit.