FirstClassFashionista would like to invite you to shop:
Discount Designer Clothes
Discount Designer Shoes
Discount Designer Handbags
*BOOKMARK THIS SITE* Celebrity Entertainment & Gossip News


According to the Buzzzzzzzzzz
Oprah Wants Rihanna to Give it Some Time!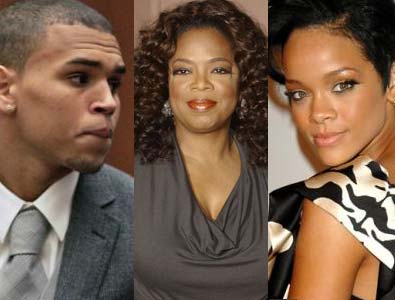 Oprah says that she has spent most of her life telling women that love doesn't hurt… "And if a man hits you, he will hit you again." It has been said that Oprah wants Rihanna to leave Chris brown and to also seek counseling. Oprah plans to dedicate a show, scheduled to air this week, to the "Rihanna's of the world".
Here is where you can tell thousands of people what you think. Share a comment with thousands of visitors. Is Oprah right? Should Rihanna leave Chris Brown? Is Rihanna setting a bad example for young women? Should we respect Rihanna's decision to stay with Chris? Will Chris Brown hit Rihanna again? *Copyright Protected. First Class Fashionista permits a direct link and credit.